After months of teasing for the upcoming new release, Danielle Foré, the founder and CEO of the project, finally announced elementary OS 7 Horus, the beautiful GNU Linux distribution based on the long-term supported version of Ubuntu.
What's new in elementary OS 7?
This version is a major release as it has built on the new Ubuntu 22.04 base instead of the Ubuntu 20.04 base on which the Monterey OS 6 and 6.1 versions were based, meaning that elementary OS 7 comes with a newer Linux kernel version, drivers, and libraries, and additional support for more hardware components.
With this, you should not expect to get much new features with this new release, as the new things in elementary OS 7 can be limited to a simple update to the set of icons used in the distro, some refinements in the settings app, in addition to some minor tweaks here and there. There is also, of course, no official way to upgrade from an earlier elementary OS 6.1 to this new release, so existing users have to back up your data and do a fresh install as with every major release of the distro.
New icons:
To begin with, and as we said, the first change you will see after logging into the desktop after installing the distribution is the refreshed icon set, where almost all application icons have been redesigned to be based on a unified tile shape with some elements overlaying or layering, which gives icons a modern, simple and beautiful feel at the same time. In addition, many of the colourful system icons and symbols have been updated to match the latest brand colours, and to use the same tile base shape as the application icons, to make all the distro aspects consistent and unified.
Improvements to the Installer, Initial Setup, and Onboarding:
Next, the distribution's installer has got some small improvements, as it now notifies the user if his laptop on which he's trying to install elementary OS on, is not connected to a power source, and show a warning if they are trying to install the system on a virtual machine (inviting them to install on real hardware for a better user experience).
During Initial setup, the installer enables you to configure which mouse button is used for the primary click, and guides you to connect to the Internet via a new "Connect Network" page, which provides information on how to connect to the network via an ethernet cable or via Wi-Fi, although the ability to connect to a hidden Wi-Fi network is not provided at this stage.
Onboarding includes a new display page for configuring updates to automatically download and install when a user's device is connected to the Internet, and an option has been added to the "Choose Your Look" page to automatically set the dark mode at sunset.
New in Settings:
In the Settings app, several sections of the Printer Settings page have been redesigned and new features have been added such as the ability to clear the print queue for each printer separately, and a much clearer ink levels view.
The Power page has been enhanced with power profiles management to provide the user with the ability to choose the appropriate mode for his needs among a "Power Saving Mode" which gives mobile devices more battery life, a "Balanced Mode", and a "Performance Mode" for devices that support it.
Moreover, the Keyboard Shortcuts page has been redesigned to make it easier to disable shortcuts or return them to default settings, as well as better manage custom shortcuts. You can also now set custom terminal commands to be executed when the mouse pointer enters a screen corner, swipe horizontally and vertically on the power indicator to change the screen brightness, and open and close the multitasking view with the Super key.
Improved App Center: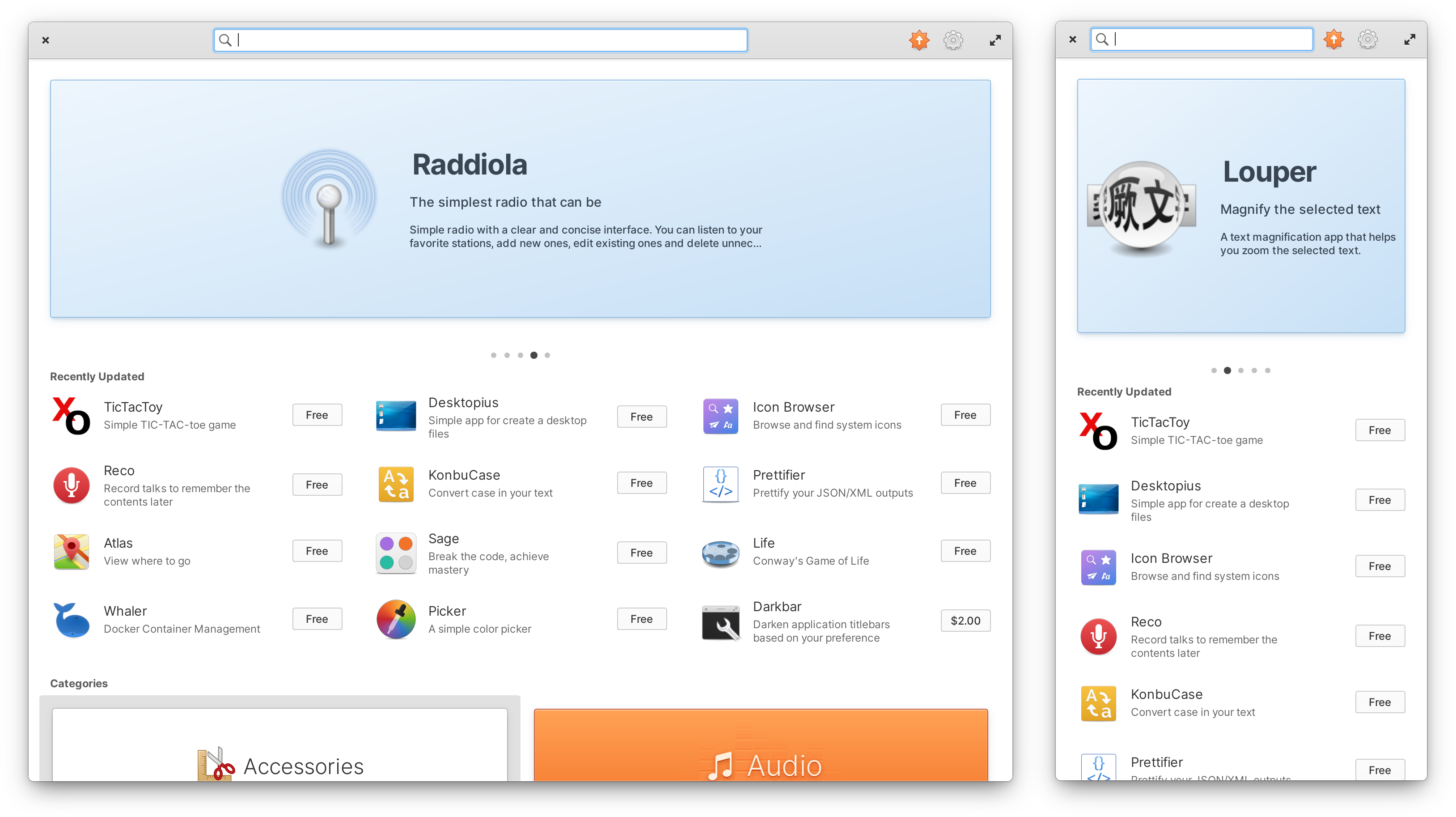 App Center is made responsive to make it better usable on small screens or when tiling windows, it provides larger screenshots (with the app's custom accent colour) in apps info pages, supports two-finger swipe gestures to navigate to the previous page, and shows change history for up to the 5 latest versions per application.
Besides, users can also set up updates to be downloaded and installed automatically from the Application Center settings menu, and system updates are also installed offline when the computer is restarted to avoid crashes when updating the system (due to package conflicts, for example), and to ensure that all system components work as they should at the next OS boot.
But on the other hand, the elementary App Center still offers only about 120 Flatback applications that the distribution developers see as being visually compatible with elementary OS, and the store does not show any of the many useful applications found on the official Ubuntu repositories like Firefox or LibreOffice, nor does it come with the Flathub repository is enabled by default nor does not offer any graphical way to add it, which makes elementary App Center very limited compared to the Gnome, Deepin or KDE app stores.
Other Changes:
elementary OS 7 also comes with the following changes:
Adding a new option to forbid new USB devices from connecting while your device is locked.

Updating the network settings and the network indicator to support WPA3 networks.

Updating Gnome File Roller and Evince document reader to their latest version, 43.

Music app has been rewritten from scratch with a modern look and simplified functionality.

Videos now appear in the sound indicator alongside other media players.

Calculator, Sideload, Shortcuts, Music, and Onboarding are ported to GTK 4.

Default Mail Client supports Microsoft 365 accounts

Adding support for offline firmware updates.

There's no longer a warning dialogue every time you install an app that's supplied by an alternative flatpak store.

Updating the default web browser to version 43 which comes with the web app support.

You can now choose to select folders with a single click instead of activating them in files manager app.

Code text editor (or mini-IDE) gained a full-height project sidebar, a new elementary light and dark styles for the source view, and it can also optionally follow the systemwide dark style preference.
Conclusion:
In conclusion, elementary OS 7 undoubtedly offers some interesting features and improvements, so it will be beneficial for users of previous versions of the distribution to upgrade to this new version, but the poor application catalogue on the Application Center, and the lack of some basic programmes such as an office suite included by default, in addition to the lack of an official way to upgrade between the major distro's versions and forcing users to do a fresh install to get the latest features makes elementary OS, in my opinion, a little difficult to use and is not recommended, especially for new users coming to the Linux world.